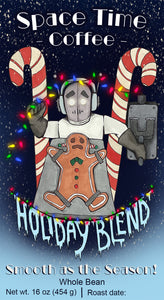 Space Time Coffee
HOLIDAY BLEND
Regular price
$16.25
$0.00
Unit price
per
"Smooth as the Season" says it all!
And when we say, "Smooth as the Season," this is what we envision.
Imagine if, instead of David Bowie singing Little Drummer Boy with Bing Crosby -- in one of the strangest holiday pairings of all time -- it was Lando Calrissian (not Billy Dee Williams, but the actual Lando Calrissian) and Levar Burton! And the whole time they're singing they're petting sweet baby Rudolph on his soft tummy-tum. This medium roast coffee is all of that rolled into one amazing cup that everyone is sure to enjoy while on this crazy Yuletide mule ride!
So get out there and deck those halls, don that gay apparel, and pa-rump a pum-pum!
---